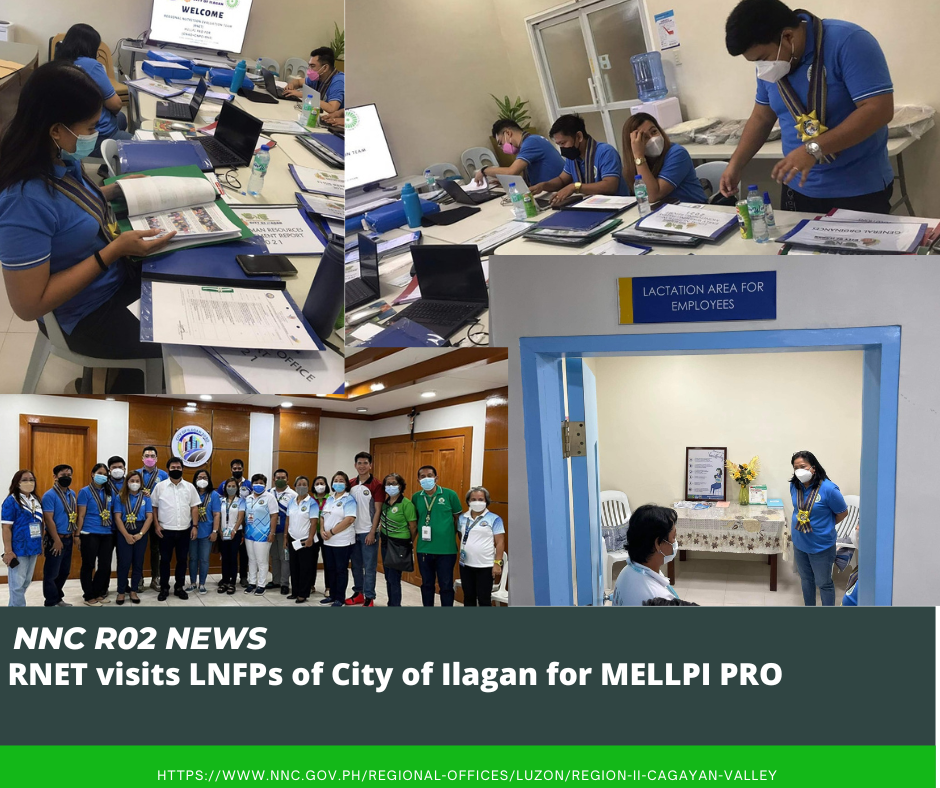 Tuguegarao City – The Regional Nutrition Evaluation Team (RNET) conducted the 2022 Monitoring and Evaluation of Local Level Plan Implementation Protocol (MELLPI Pro) for Local Nutrition Focal Points (LNFPs) of City of Ilagan on 13 September 2022.
MELLPI Pro is the monitoring and evaluation mechanism for the implementation of the Philippine Plan of Action for Nutrition at the local level. The MELLPI Pro is a local sub-system of the Philippine Plan of Action for Nutrition (PPAN) Results Framework. The results chains, activity, output, outcome, and impact are depicted in the six dimensions within a local government context. Activities and outputs in the MELLPI Pro are the local translation of the identified priority policies, services, and training expressed in the PPAN Results Framework. The outcome and impacts in the sub-system, on the other hand, refer to the conditional and behavioral changes in the specific areas/ target groups and their contribution to the national targets.
This year's MELLPI Pro focuses in the evaluation of LNFPs in the region because all the cities and provinces were already declared as NHA, the highest Nutrition award to date.
The evaluation commenced with a courtesy meeting with Honorable Josemarie L. Diaz, Mayor and Chair, City of Ilagan Nutrition Committee. Mayor Diaz shared the plans and proposed strengthening of the City Nutrition Office under his administration. He also discussed the plans of ensuring the nutrition devolution in the city.
After the courtesy meeting, RNET members proceeded with the desk review for the city's contender for Nutrition Action Officer, Nutrition Program Coordinator and Barangay Nutrition Scholar.
After the desk review, LNFPs of City of Ilagan were interviewed while BNS Bulan was also given an examination.
During the learning/feedback session, the evaluators expressed their feedback and recommendation to further improve the documentation of the city.
To conclude the evaluation a tour around the breastfeeding room and corners and lactations areas situated in the City of Ilagan Medical Center (CIMC), LGU owned hospital, was conducted with assistance from the Nutrition office.
RNET was chaired by the National Economic and Development Authority together with the members from the Philippine Information Agency, Department of Trade and Industry, and National Nutrition Council Region 02.### John Nestor Ballad